HEIRS OF YESTERDAY'S STRUGGLES – MILITANTS OF TODAY
Am 01. Oktober ist Fire and Flames Festival in Kiel und es wird ordentlich gefeiert. Es werden folgende Bands in der Alte Meierei spielen:
Bull Brigade – Melodic Oi-Core (Torino), Cartouche – Antifascist Punkrock'n'roll (Paris), Gipsy Mafia – Antifa Balkan Rap (Zrenjanin), Oi Polloi – Anarcho-Punk/Streetcrust (Edinburgh), Starr & Dj Mig.L – Militant Rap (Madrid), The Movement – Hardmod Internationalists (Copenhagen).
Weiter gibt es: Graffiti-Action hinterm Haus – FF haut Dosen raus! +++ Vegan Fast Food by 4K Catering +++ Solidarity Drinks +++ Revolutionary Propaganda +++ Fire and Flames Riotwear +++
Heute am Freitag (30.10.) gibt es im Subrosa in Gaarden eine Veranstaltung mit den Genoss*innen vom Lower Class Magazine, die sich immer wieder in der Türkei und verschiedenen Teilen Kurdistans aufhalten und ihre Eindrücke und Erfahrungen in einem Buch zusammengfasst haben.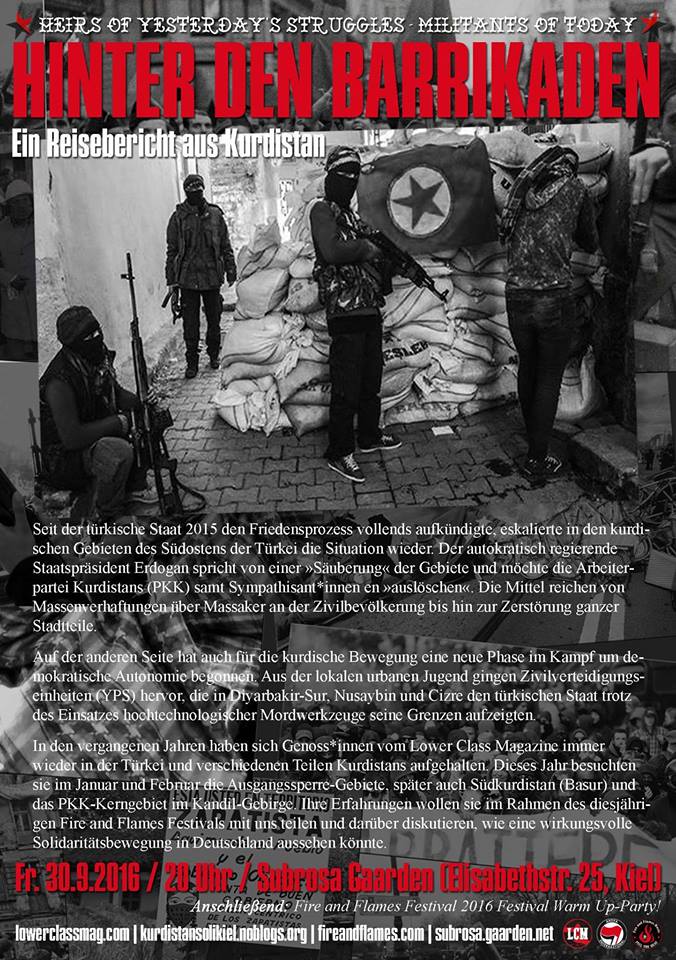 +++ Termine +++ Termine +++ Termine +++ Termine +++ Termine +++
Am 22.10. in Neumünster den Naziaufmarsch verhindern! Infos